Balaklavskiy Prospex released a month ago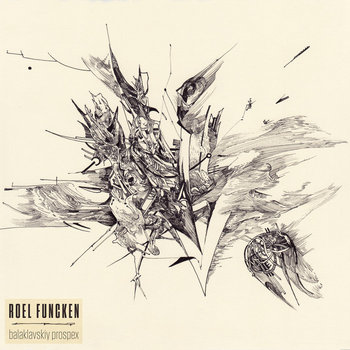 Roel Funcken - Balaklavskiy prospex
all written and produced by Roel Funcken
www.funckarma.com
2017

drawing by Ivan Shopov
edit by Faction23
mastered by Bob Macciochi at SC Mastering

collabs :
Quiescent Solar
with Cor Bolten

Neon Malfoid
with Valance Drakes and Ivan Shopov

Fermi Paradox
with Initvoice

Flamsteed designation
with Initvoice and Ivan Shopov
Buy This Album
Balaklavskiy Prospex is out a month now.
stream or buy it on bandcamp
stream it on Soundcloud
stream it on Spotify
buy it on Itunes
still some posters left from the amazing art from ivan Shopov here
————————————————————————————————————————–
Roel Funcken, probably the most prolific musician of abstract electronic music this side of the galaxy, continues his foray into mind-altering sonic extractions. Balaklavskiy prospex bends and twists its way through those familiar, glitchy tentacles of dust and debris that one can instantly relate to the Roel Funcken signature.
The title track, swaying back and forth between abandoned drones and dribbling synth notes, scatters all about in a fluid maze. Known for sporadic rhythm bursts, Roel continues in the Funckarma bass-heavy dynamic. Broken beats are tossed into the atmosphere, only to fall gracefully in form and function—have a listen to "Drogan" as a prime example. Elsewhere one can find more industrial fragments as evidenced on "Fermi Paradox" (a collaboration with Initvoice), where visceral bleeps and sharper beats ricochet and dissolve into a colorful stew.
The myriad of electrical detailing surrounding Balaklavskiy prospex is perplexing—layers upon layers of low-flying, lo-end basslines gravitate around pristine melodic pulsars (ref. "Other form of Matter"). Brittle harmonic bubbles implode on "Neon Malfoid" (with Valence Drakes), a short-running windswept audio photo that rummages through a percussive slurry. At times quaint and transportive throughout, "Drakes Equator" simmers and slithers about with its own downbeat, low-flying rumble.
In all, Balaklavskiy prospex generates just as much energy as the nearest supernova remnants, and is perhaps best suited as the backdrop to these spectacular events. Roel's focus on timeless sound and visual artifacts are well-represented here—a fragrant, relevant, and elevated electronic music mass.
————————————————————————————————————————–
review canthisevenbecalledmusic
Straight from Amsterdan, Roel Funcken creates some great electronic music. Somewhere between intelligent dance music, glitch, and ambient electronica, there's Balaklavskiy Prospex. Just a few seconds of the title track (click the play button), and you'll be sold on this. The rhythm, the harmony, and the structure are very interesting throughout the album. Solid recommendation!
————————————————————————————————————————–
review on Bandcamp by Extralife
Roel has been honing his craft for years and now has reached this scintillating peak. It's easy to overlook another release in his canon, but trust me when I say PAUSE. Grab these files and drop down the rabbit hole of a master.

Favorite track: Balaklavskiy prospex.
————————————————————————————————————————–
Some producers are a reference in the community they represent,
are more so at every release and it's exactly the case with Roel Funcken.
Balaklavskiy Prospex is his most defined work to date and we plainly perceive Funcken's unique signature. The sound design bewitches any electronic music admirer, the attention to details is uncommonly captivating and the melodies are remarkably astonishing.
The universe of Mister Funcken is one of many coexisting directions and it's basis has temper, warmth and passion. A definite must have in every instrumental addict's collection.
————————————————————————————————————————–
I didn't know about his art before this record. All I was aware of is the facebook persona I linked up because some of my favorite artists have connected to it. And then I heard the album and understood who am dealing with. This is really on the level, top electronic action here mate, I can't see anything like that around, it's not simply rhythmic or ambience to drop out to, this has a story to it and being a DJ friendly at the same time, am sure parts of it can be on Mercedes commercial and you wouldn't notice, but the full listening immense experience is different, am sure it sounds good both on cans and on your stereo. The thing it reminds me most is artists with the name Nikakoi album Shentimental. I will definitely follow Roel's back catalogue because I want more of this music around me in my life, in fact it feels like you just have interaction with an artist, it's personal and it's in my bag now!